To invest in mutual funds you need to know how to invest in mutual funds. In this article, we have explained different ways on how to start investing in mutual funds in India online.
Mutual Fund is one of the best investment options because it offers a wide range of options which have the potential to fulfill the need of every investor irrespective of their financial investment objectives or risk appetite.
This article helps you understand the different types of mutual funds available in India and the different ways in which you can make an investment.
Here, you can find out why you should pick mutual funds for your investments and how to invest in mutual funds.
Mutual Funds Types to Invest in India
Here are the details which will help you understand the nature of various types of mutual fund.
1. Growth or Equity Mutual Funds
Growth funds invest mainly in equities and equity-related instruments. The primary objective of Growth funds is capital appreciation. Growth funds are risky and hence they offer high returns in the long-term.
2. Income or Debt Mutual Funds
Income funds are debt funds with the primary motive of capital preservation. Income funds earn by investing in fixed income instruments like government securities, bonds and debentures where you get regular income in the form of interest.
The objective of the income fund is to have stable income generation with moderate growth of capital.
3. Liquid Mutual Funds
The purpose of liquid funds is to provide very short term liquidity to investors. Liquid funds invest in debt and money market financial instruments like treasury bills, deposit certificates having a maturity of up to 91 days.
Liquid funds have the lowest risk and give average returns just above bank deposits. Liquid funds are ideal for people looking to park surplus money until they find a suitable investment avenue.
4. Tax-Saving Mutual Funds or ELSS
ELSS or tax saving mutual funds helps you in saving taxes and in tax planning.
Investment up to Rs.1.5 Lakh qualify for a deduction under section 80C of the Income Tax Act, 1961. However, you have a lock-in period of 3 years on the ELSS investment.
5. Fixed Maturity Funds
Fixed maturity mutual funds invest a major chunk of the corpus in closed-ended debt funds which have a fixed maturity date.
On the date of maturity, the money received from the investment is repaid to investors after adjusting for expenses and the fund ceases to exist.
6. Retirement or Pension Funds
Pension funds have the primary objective of amassing a corpus which is sufficient to provide a regular pension to the investor after retirement. Pension funds are also called retirement funds and have a lock-in period of at least 5 years or till the age of retirement.
The pension fund can be withdrawn as a lump-sum or as a regular pension or combination of both.
Here are 5 different ways on how to invest in mutual funds online.
Any investor can start investing in the mutual fund using either the single lump-sum payment option or the more flexible systematic investment plan (SIP) option.
You can start an SIP with a minimum amount of Rs. 500 for some ELSS funds but usually Rs 1000 and the regular contribution interval can be monthly, quarterly, semi-annual and annual payments. SIP is an ideal approach if you are a salaried individual.
Mutual fund units can be purchased through any one of the following methods.
1. Buy Mutual Funds through Asset Management Company (AMC)
Mutual funds investment can be done directly online and offline by visiting the AMC website. The process involves;
Opening a new account
Provide personal details for the investment
Fill FATCA form
Provide bank details
Upload image of the canceled cheque
Verify KYC through Aadhar and transfer money
The offline investment can be done by visiting the AMC local office and submitting an application, KYC documents and making a payment.
2. Investing in Mutual Fund using Online Investment Platform
You can invest in a hassle-free manner in the mutual fund using an online investment platform. The platform is a single account access which helps with investing, tracking and managing all your mutual fund investments with various AMCs.
The steps required to invest using an online investment platform are;
Create an account with the investment platform
Pick up the scheme or plan
Choose the payment type (SIP or lump-sum) and the amount
Fill in the few personal details like PAN and bank details
Transfer money online to complete the investment
3. Invest in Mutual Funds through a Demat Account
You do not need to make an additional effort for investing in a mutual fund if you already have a Demat account. Your existing Demat account and bank account can be used for investing and transacting in the mutual fund.
For investing, you need to log-in to your Demat account and look for the option to invest in the mutual fund. In the next step, you need to choose the fund in which you want to invest. Then you need to complete the investment by transferring the amount online.
4. Invest in Mutual Funds through Karvy and CAMS
You can invest online and offline in mutual funds through registrars like Karvy and CAMS.
In Online Method: You need to visit the website of CAMS or Karvy, create an account, provide folio number, select the scheme and make payment.
In Offline Method: You can invest by visiting the local office and complete the application form, hand over the canceled cheque and the copy of KYC documents.
5. Purchase through an Agent
This method is not recommended because it is a costly and time-consuming method to invest in a mutual fund. Just for information, the investment can be made through an agent by;
Calling your agent who should be a mutual fund distributor
Hand over the filled-in application form along with a copy of all the KYC documents and canceled cheque.
Step by Step Guide on How to Invest in Mutual Funds Online in India
You can use Scripbox to invest in the mutual fund online in India. The step by step process is as under.
1. Visit Scripbox and Select an Investment Goal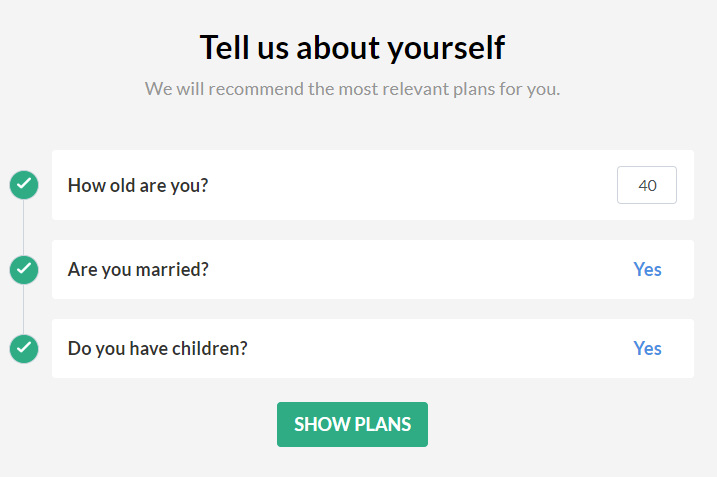 Visit the Scripbox website and fill the details to get the plans. The plans are nothing but the life goals based on the information provided by you.
You can pick any of the plans, which is close to your financial goals.
1. Lifestyle Goals
The lifestyle plan is for a young person who is anticipating various life events to unfold in his coming years' and want to enjoy those events by making a prior investment.
Why Planning is necessary for lifestyle goal
Because they are big expenses which require some planning
EMIs and credit cards can be a burden
You pay less when you invest
Saving up adds to your enjoyment
2. Start Growing Wealth Goals
Here, you have to fill the investment amount and fill the number of years to get the plan details.
3. Be Emergency Ready Goal
The plan is suited for everyone who wants to build an emergency fund.
Why is emergency planning necessary?
There can be big medical expenses if you or your family members suffer from a major illness or a physical injury.

Accidents and natural disasters can happen which requires repair and replacements costs for personal assets, such as a vehicle, or your home.
Temporary loss of income due to any health crisis.
Your job security is linked to the health of the economy, so you need some kind of planning to face the emergency situation.
4. Give your child Rs 1 Crore advantage! Goal
The plan is for individuals who want to create wealth for their child's future so that s/he gets a head-start in life.
5. Become a Crorepati Goal
The plan is for individuals who are looking to save and build a significant corpus. The plan helps your savings grow into a crore in a certain number of years.
It gives three choices depending on one's monthly investment capacity in the range of Rs. 5 to 15K, Rs. 15 to 25K and Rs. 25 to 50K.
6. Maintain your lifestyle in retirement Goal
The plan is suited for your retirement planning and it should start as soon as you start earning so that you can take advantage of low SIP amounts and benefit from the power of compounding.
Start thinking about retirement early because;
Your 9-5 job has an end date: Whether it is by law or personal choice, your regular salary cheques will stop one day.
Need to maintain relative lifestyle: Just because you have retired, it doesn't mean you need to forego things you have gotten used to.
Why depend on anyone else: Your children cannot be your retirement plan. Being financially free means not being dependent on anyone when you decide to retire.
Plan to live longer: Thanks to medical advances, 50% of Indians will live longer than the age of 78. The longer you live the more will be the need to plan for an income.
7. Scripbox Tax Saver Goal
It helps you in tax planning through ELSS. The plan is suitable for all taxpayers who are looking for an avenue to save taxes prudently.
8. Child Education
The plan is for young couples who want to save and build a corpus for their child's education.
Why is planning necessary
A college education is expensive: Current costs range from Rs. 3-9 Lakh annually, or Rs. 14 – 40 Lakhs in total (including hostel, books, and fees).
There is a regular increase in costs: College costs are increasing every year at about 10%.
The joining date cannot be changed: Unlike other financial goals, there cannot be any change in the timelines.
Education options are increasing: As a parent, you want to be financially prepared for your child's dreams.
After picking up the goals, the rest of the process is about providing the necessary information required for making an investment.
2. Choose the Right Mutual Fund Product Type
Next, you need to select a suitable fund type.
Based on the investment goals which you have selected, you will be shown the plan details and the list of the funds in which you would be investing.
You will also find details on historical returns, plan details, and best use life goal case.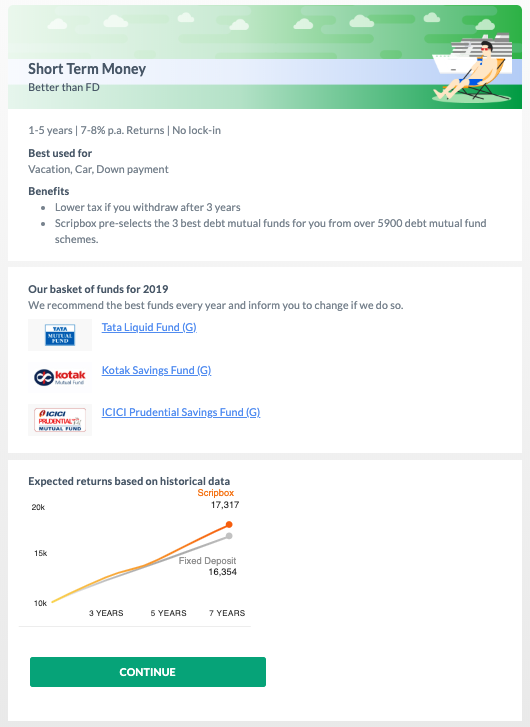 3. Proceed for Investment
After getting the plan details you can click on invest. This will open the page as above where you can choose between SIP and one-time lump-sum payment.
If you are a first time user, then you need to create an account first.
4. Investor Information and Money Transfer
At the last step, you need to provide information to add a bank account and PAN details.
The bank account will be used for investment and crediting the redemption amount by the mutual fund houses directly to your specified bank account.
Conclusion
This is a starter guide for you to start investing in mutual funds. But remember, it is important that you have a clear idea of your goals first so that you can choose the right asset class and the right mutual fund.
Mutual funds are one of the easiest financial instruments to start investing, Mutual funds are;
Diversified
Professionally managed
Optimized for returns
Caters to most of your investment needs.
Plus, there are online mutual fund investment platforms which provide an easy, hassle-free investment experience. So, whatever your life or investment goals are you should consider fulfilling it through mutual funds.